Engaging the community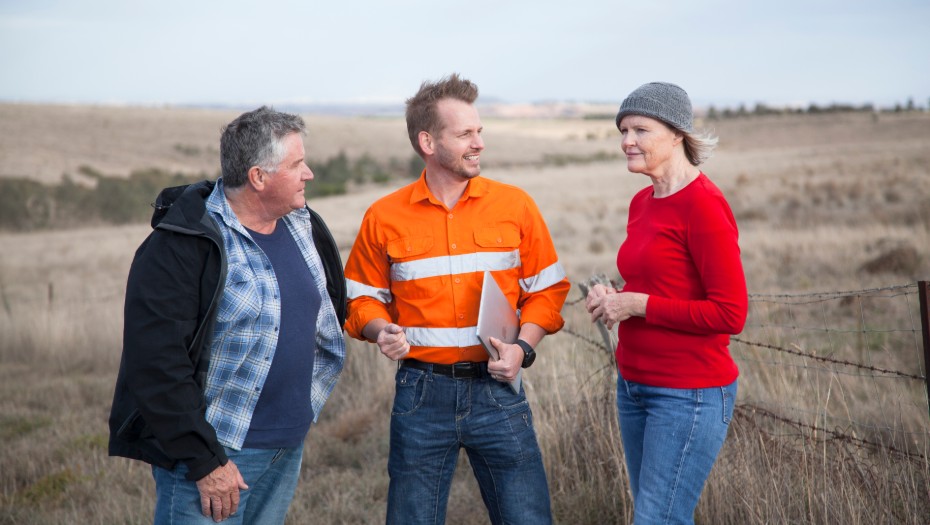 Background
The department commenced engagement with community leaders and stakeholders in the Stavely Project Area in 2015.
The aim was to learn about the region's experiences with minerals exploration and to help farmers, other stakeholders and community members, better understand the region's geology, minerals potential, and how exploration activities are regulated in Victoria.
Traditional Owners of the region, including leaders of the Barengi Gadjin, Gunditi Mirring and Eastern Maar peoples, were consulted and informed through the various phases of the initiative.
Community engagement
Throughout 2018, community sessions were held to help locals find out more about the competitive tendering process for the Stavely Ground Release. These were held in Mortlake, Dunkeld, Willaura, Cavendish, Laharum, Balmoral, Ararat, Nhill, and Horsham. Meetings with local community groups and landholders continued throughout the licence application process.
The tender process also highlighted that successful exploration companies were expected to collaborate with Traditional Owners throughout the Native Title process, implement a well-designed landholder and community engagement program, and actively safeguard the environment.
Following the awarding of licences for the tendered blocks, 'Meet the Explorer' sessions were held.
For Block 11 - P&G Forwood Pty Ltd, and Block 10 - WIM Resources Limited - community information sessions were held in June 2018 at Balmoral and Cavendish and at Wonwondah, Laharum, and Brimpaen in November 2019.
Westrock Minerals Pty Ltd was granted the third licence for Block 1 in April 2020. Due to COVID restrictions, online information sessions were held in June 2020, for communities near Glenthompson, Caramut, Chatsworth, Minjah, and west of Mortlake.
Gippsland Prospecting Pty Ltd was granted the fourth licence for Block 4 in October 2020. Online information sessions were held in November 2020, for communities south of Ararat and Stawell, including Halls Gap, Moyston, Pomonal, and Willaura.
Stavely Minerals was granted the fifth licence for Block 3 on 30 August 2021. Online information sessions were held on 6-7 October 2021, for Mafeking, Wickliffe, Willaura, and Lake Bolac communities.
Through these sessions, landholders were informed about their rights in relation to minerals exploration, environmental safeguards, and new tools to assist in negotiating land access consent and compensation agreements with minerals exploration companies.
Land use planning to understand factors important to communities
The engagement program also included resource and land use planning research. This exercise sought to engage with local industry and stakeholders to help inform identification of ground suitable to release and tender for minerals exploration.
This process helped to build understanding of the land uses, land planning, environmental, water and heritage features within the region. The work clarified what was important to local communities, and what to consider in relation to how minerals exploration (given the way it is regulated) might affect these features.
The studies and consultation with regional leaders concluded that the sensitive areas identified were generally well safeguarded from any potential adverse effects from minerals exploration by existing legislation and land planning processes and controls.
Land access consent tool
New support for landholders was piloted as part of the Stavely Minerals Exploration Initiative. This included public information sessions for landholders about minerals exploration, the land access process, negotiating land access and compensation agreements with explorers.
Workshops were also held for local farm management, financial and legal practitioners to equip them with the right information and boost capabilities around land access.
The Commercial Consent Agreement for Access to Private Land in Victoria can be used by anyone and tailored to individual circumstances.
The complete kit includes a simple, voluntary land access consent and compensation agreement template with supporting guidance material, to help landholders negotiate land access with explorers.
Page last updated: 08 Dec 2023