Fossicking safely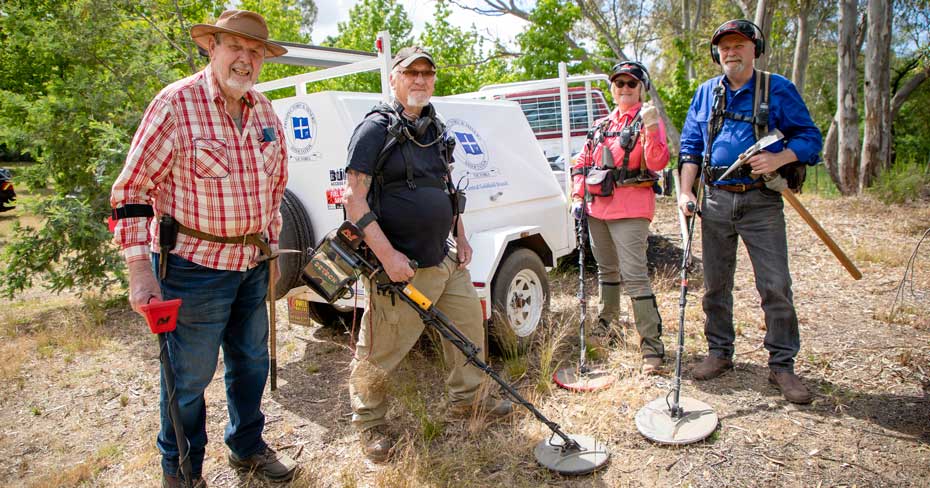 Buy a miner's right
Guide to Recreational Prospecting
Stay safe while fossicking by following these safety tips:
Before leaving home
Tell someone responsible where you are going and when you expect to return.
Check for weather alerts including fire and flood warnings.
Wear appropriate clothing including sturdy shoes or boots.
Apply sun protection and wear a hat and sunglasses.
Wear gloves when digging and sieving to avoid wear and tear to the hands.
Wear rubber boots if working in water for long periods.
Wear proper eye protection (safety goggles/glasses) whenever breaking rocks.
Carry a well-stocked first-aid kit.
Learn more about being prepared at police.vic.gov.au/outdoor-and-bush-safety
When fossicking
Be careful when digging around large boulders. They may roll or move suddenly causing severe injury.
Never burrow into or undermine a stream bank; or work under overhanging rocks or earth faces.
When visiting old mining areas beware of open shafts, and avoid getting too close, as the surrounding ground may be unstable. Never enter old underground mine shafts.
Be careful when fossicking on mine dumps, as much of the material is loose and may move without warning.
Never set a fire to clear grass or undergrowth.
Before leaving, remove rubbish; bury human waste; and make safe and refill any holes you dig.
Mercury cannot be mined or used in mining or fossicking in Victoria.
Key contacts
VicEmergency Hotline on 1800 226 226.
Police, Ambulance, Fire Brigade 000
Page last updated: 12 Jan 2022