Oil and gas acreage releases
2020 Victorian Offshore Exploration Permits – Otway Basin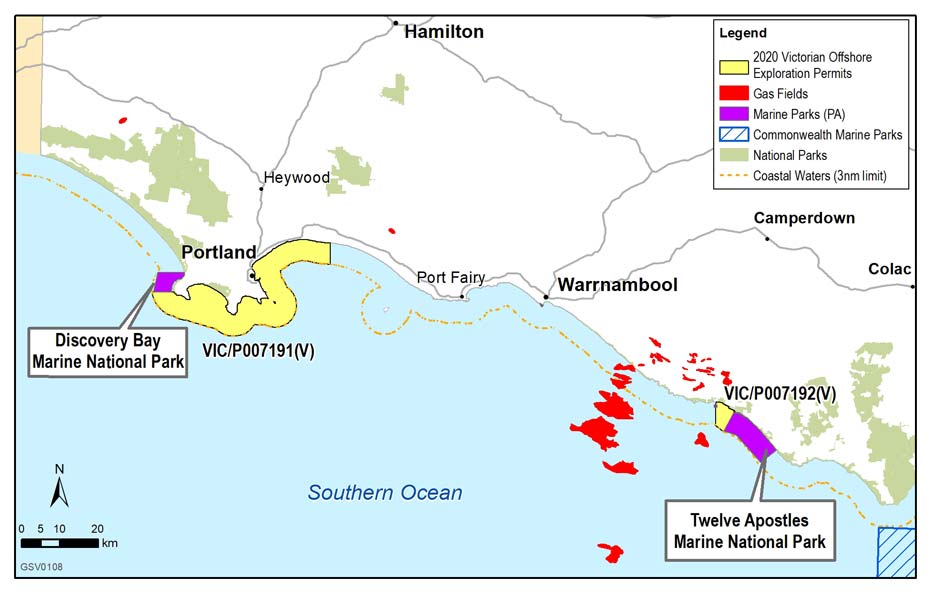 Permits have been granted to Beach Energy (Operations) Ltd and Bridgeport (Eromanga) Pty Ltd Energy to explore for petroleum within state waters (within three nautical miles of the coast) in the Otway Basin, near Portland and Port Campbell.
| Permit holder | Exploration permits | Area size |
| --- | --- | --- |
| Beach Energy (Operations) Ltd | VIC/P007192(V) | 24 km2 |
| Bridgeport (Eromanga) Pty Ltd | VIC/P007191(V) | 439 km2 |
Applicants' bids were assessed on their proposed work program, a summary of financial and technical capability and records of past performance in regard to exploration and development operations in Australia and overseas.
Beach Energy (Operations) Ltd and Bridgeport (Eromanga) Pty Ltd are now required to work closely with the commercial fishing industry, local communities and government bodies along the south-west coast as they conduct their exploration programs.
Each exploration permit is granted for a period of six years.
Understanding the offshore exploration process
The granting of permits is the beginning of the exploration process. Exploration typically takes several years and there is no guarantee that it will result in a producing gas field.
The first stage of commercial exploration focuses on desktop geological studies and modelling. If seismic surveying is required in future years, a separate approval process would be undertaken including consultation with any potentially impacted industries.
If a commercially viable reservoir of gas is discovered in the future, and a company wishes to develop it, a separate and rigorous regulatory process would commence.
If new gas fields are found to be viable, safe to extract and appropriate to the local context, there are positive implications for jobs and economic development in the region.
Environmental protection in state waters
Victoria's coastal areas are a major asset and strict environmental controls are in place.
Marine parks are excluded from the new offshore acreage areas and from gas exploration and development.
Any authorised marine seismic surveys must include an environmental protection plan that identifies any risks to flora and fauna and planned mitigations. No seismic survey work would be permitted during whale migrations.
Extended reach drilling from onshore to access offshore gas has been successfully used for many years in south west Victoria and substantially reduces visual impact and infrastructure footprint.
Regulatory compliance
Earth Resources Regulation within the Department of Jobs, Precincts and Regions regulates petroleum activities in State waters. Find out more about compliance and enforcement.
Page last updated: 02 Jun 2021