Limestone and dolomite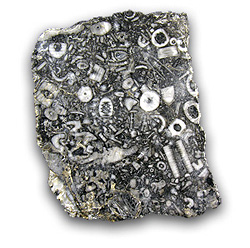 Limestone and dolomite have been formed in a variety of settings in Victoria and range in age from early Palaeozoic to Quaternary. Younger limestones tend to be friable and porous, whereas older limestones are often dolomitised and silicified, or metamorphosed and recrystallised to marble.
Victorian Palaeozoic limestones and dolomites were formed in marine settings, whereas Tertiary limestones were formed in a range of subaqueous and subaerial environments.
Limestone uses
Current uses for limestone in Victoria, in descending order of tonnage consumed, are:
cement manufacture
road-making
agriculture
lime manufacture
and minor amounts for paper, glass and steel-making.
Commercial limestone
There are three main types of limestone of commercial significance in Victoria:
high-grade recrystallised Palaeozoic limestones
Tertiary limestones
Quaternary limestones made up mainly of sand-sized shell fragments that have been blown into dunes, some of which have consolidated.
Deposit sites and uses
Silurian–Devonian limestones are confined to the eastern half of Victoria, with major deposits at Buchan (Rocky Camp), Bindi, Lilydale, Limestone Creek and Tyers River. Only the Lilydale and Rocky Camp deposits are currently being worked. The Lilydale deposit consists of hard, dark-grey, recrystallised dolomitic limestone.
Approximately 40 per cent of the material quarried at Lilydale is used for agricultural lime, metallurgical flux, quicklime and slaked lime. The remainder is crushed for aggregate and screenings. The Rocky Camp limestone is currently used for paper manufacture, production of quicklime, metallurgical flux, stockfeed and agricultural lime.
There are also minor Cambrian limestone deposits that have not yet been exploited. These form lenses along the southern margin of the greenstones of the Wellington–Dolodrook River.
There are extensive deposits of Tertiary bryozoal limestones in southern Victoria. These have been worked at many localities, including Bairnsdale, Sale, Woodside, Merrimans Creek, Longford, Darriman, Geelong, Batesford, Portland, Cudgee, Curdie, Warrnambool and Waurn Ponds. The only current cement-manufacturing operation is from a major deposit at Waurn Ponds. Other deposits provide limestone for agriculture and road-making.
Pleistocene dune limestone and Holocene aeolian calcareous sand have been deposited along much of the Victorian coastline. This limestone is predominantly used as a soil conditioner, but has also been used for building stone, as shell grit, as aggregate, in glass manufacture and in cement manufacture.
Because there are extensive limestone deposits in Victoria, only the most significant deposits are shown on the accompanying map.
Further information
Maps
To create your own maps online and in real time, plan exploration activities by viewing land status, or download GIS data to add to your own maps, visit GeoVic.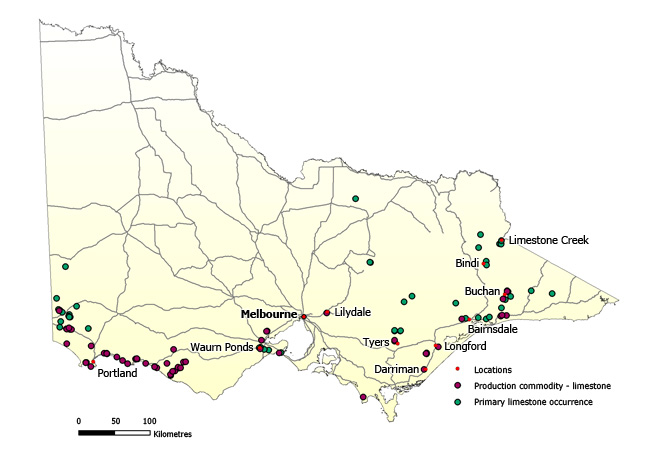 Page last updated: 01 Dec 2022