3D geological modelling
A three-dimensional (3D) geological model is an evidence-based spatial computer representation of the Earth's subsurface geology.
The Geological Survey of Victoria (GSV) has built a number of 3D models to help geoscientists and resource-related companies better understand and interpret Victoria's regional crustal architecture. The visualisation capabilities of these models act as an important predictive exploration tool that can assist with a geological discovery.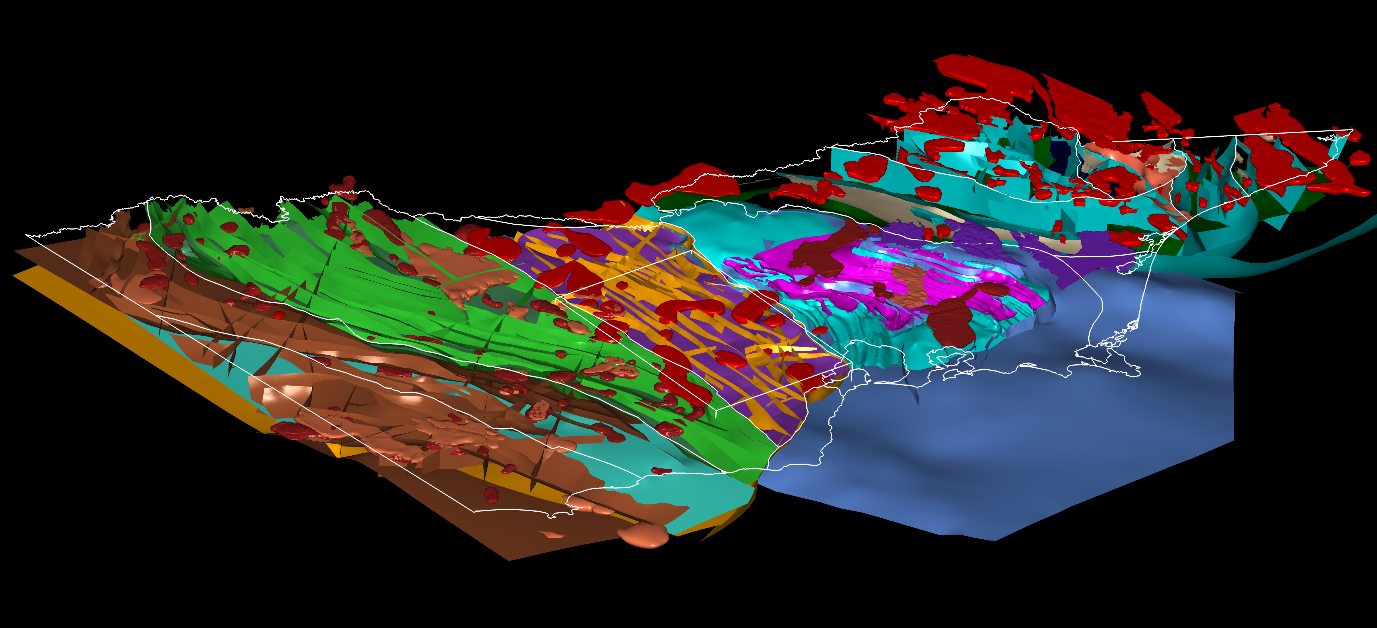 The GSV uses a multidisciplinary approach for building 3D models. Multiple geoscientific datasets are interrogated when building 3D models to increase the likelihood of a realistic representation of the rocks beneath the surface. The most common datasets used include the surface geology, and geophysical data such as aeromagnetic, gravity and seismic and associated derivative products. A variety of other datasets are also utilised if they are available (e.g., geochemistry, geochronology etc.).
3D model applications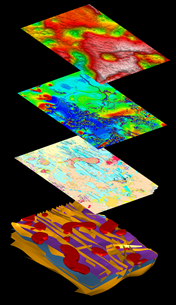 Regional 3D models have many scientific, industry and socially beneficial applications including:
Mineral and energy exploration
3D visualisation of regional geological structures
Tectonic interpretation
Geohazard analysis
Understanding and modelling of groundwater
Geothermal exploration
Characterising fault systems
Fluid flow modelling
Geostatistics / volume estimation
Forward and inversion modelling
Geoscience education
Community engagement
Minimising exploration risk for industry
GSV's 3D models
The Geological Survey of Victoria has built a number of models at different scales through specific work programs and initiatives. A few of these include:
The Whole of Victoria model is a full crustal thickness model, extending from the surface to the base of the crust. It is designed to provide explorers and resource managers with a regional 3D geological context.
The Stavely model completed through the Stavely minerals exploration Initiative, is a more detailed 'bridging scale' model for the central Grampians-Stavely Zone of western Victoria that includes the Cambrian-aged Stavely Arc, prospective for arc-related mineral systems.
The GSV has also built detailed regional scale models for both the Otway and Gippsland basins released through the Victorian Gas Program. These models aim to characterise the geometry of the basin and inform prospectivity of a variety of commodities including geothermal, oil, gas, water and carbon and hydrogen storage.

Public access to Victoria's models
GeoVic provides a graphical interface which enables the spatial extent of model boundaries to be visualised. Using the 'info tool' in GeoVic, specific models can be selected, and downloaded from the Geological Survey of Victoria catalogue via a direct link. 3D models can also be accessed directly at the GSV Online Store.
Industry access to Victoria's 3D facility
The Geological Survey of Victoria has a stereo 3D visualisation facility in Melbourne, which is used to interrogate 3D models and visualise them alongside other geoscientific datasets.
Exploration and mining companies interested in visiting the 3D facility can inquire via gsv_resources@ecodev.vic.gov.au
Companies are also encouraged to bring their own geoscientific data / 3D models into the facility to visualise within the framework of GSV's regional scale 3D models, providing a broader geological context for their models.
Please note that while the 3D facility can accommodate up to 20 people, smaller groups of up to 10 are preferred.
Page last updated: 18 Jul 2023