Airborne Gravity Survey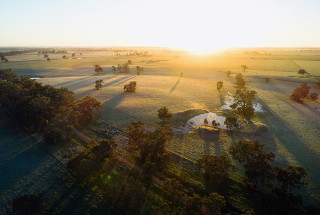 Geoscience takes to south west skies
The Geological Survey of Victoria (GSV) has completed the data acquisition phase of its airborne gravity survey across south west Victoria. The survey will help inform the Victorian Gas Program's (VGP) scientific research into potential new onshore conventional gas and offshore gas resources in the region.
GSV routinely conducts geoscientific research to better understand Victoria's geology and state-owned earth resources.
The data acquisition phase, which commenced in August 2018 and concluded in January 2019, was carried out by two small, fixed wing aircraft carrying state-of-the-art technology designed to record gravitational variations while operating in a moving aircraft.
Frequently asked questions
For more detailed information, please see our frequently asked questions, check out the following video or download the factsheet below.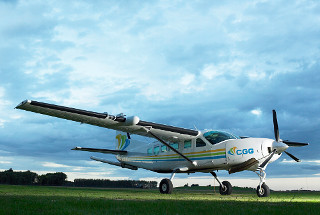 The planes flew in parallel lines set at 500 metres apart over the municipalities of Corangamite, South Grampians, Moyne, Glenelg, and Warrnambool as well as approximately 18 kilometres offshore.
Nearly 32,000 kilometres were flown by the planes, covering an area of 16,000 square kilometres.
The survey has resulted in the largest airborne gravity dataset ever collected in Victoria and will provided GSV with superior quality gravity imagery, compared with pre-existing data.
Once the survey's data is analysed, the information will help geologists build 3D geological models and visualise geological structures deep within the Earth's crust. This in turn will assist with GSV's geoscience understanding of the potential for future conventional gas resources in the region.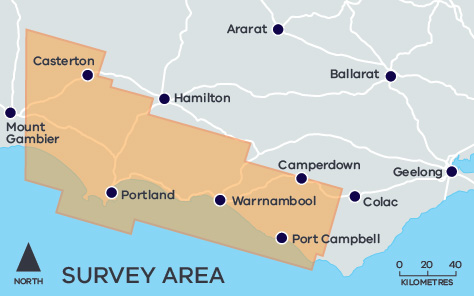 The survey data will not only be used to understand the shape and distribution of underground rock structures, but it will also improve interpretations of many other south west geological structures, including the volcanoes Tower Hill, Mt Eccles, Mt Warrnambool and Mt Eckersley.
The survey was conducted by CGG Aviation (Australia) Pty Ltd, which based a crew of 24 people at Warrnambool during the survey period.
Fracking and other onshore unconventional gas are not part of the Victorian Gas Program as they are banned in Victoria.
Want more information about the survey results?
The published airborne gravity survey report and data package can now be accessed.
Factsheets
Page last updated: 13 Jul 2022