Geophysics
Geophysics is an important surveying technique that enables geoscientists to gain information about the geology observed at the surface and extending deep into the Earth's crust. Geophysical methods measure changes in the response of a physical parameter associated with variations in the physical properties of rocks. These rock properties, also known as petrophysical properties, include the rock's density and acoustic properties, magnetic properties, electrical properties, and natural radioactivity. The measured geophysical response can then be used to make inferences about the geology of the area being surveyed.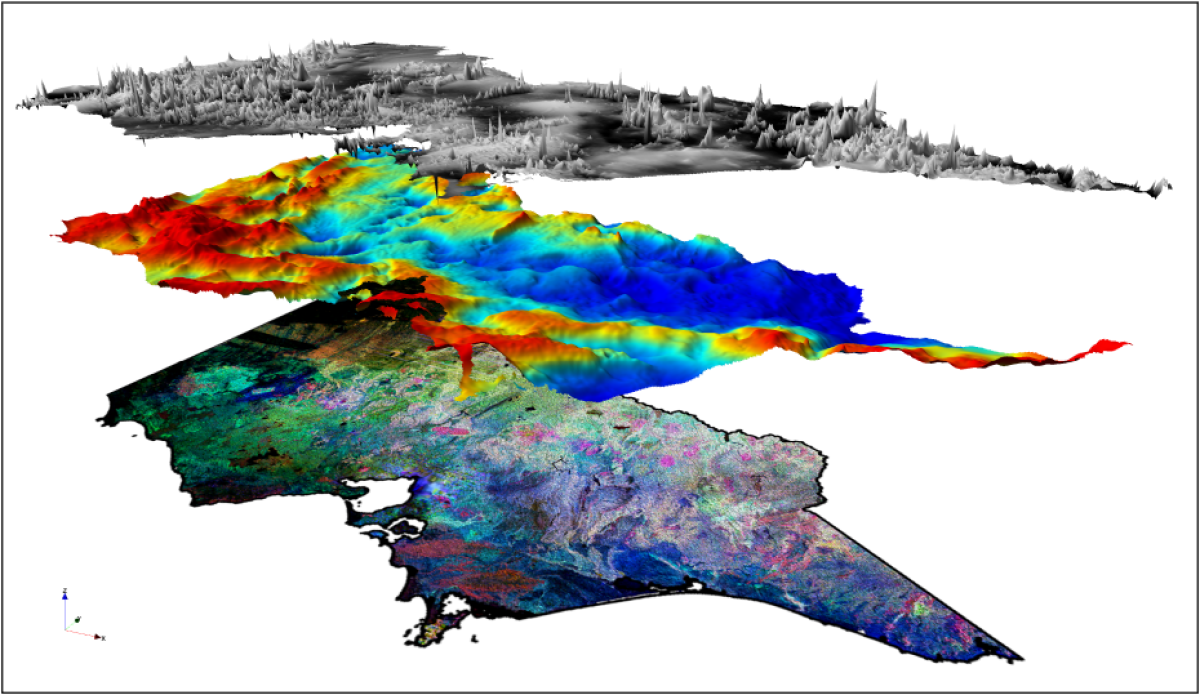 Geophysical survey data
The Geological Survey of Victoria (GSV) undertakes pre-competitive geophysical acquisition to improve Victoria's geoscience evidence base and enable new knowledge and products such as regional 3D geological models. The surveys are often undertaken as part of wider collaborative projects, typically with other government and research agencies. The GSV is the custodian of Victoria's publicly available geophysical data. The geophysical datasets aid in the exploration for earth resources and assist explorers in targeting geology with the highest mineral and energy potential. Additionally, geophysical data has other public-good applications for groundwater investigations, quarry materials, infrastructure planning and development, and geohazard assessments.
Victorian geophysical data are available online and comprise state-wide regional datasets, data compilations and packages, as well as individual detailed surveys acquired over specific locations.
Regional geophysical datasets
Victorian airborne magnetic, radiometric and ground gravity data, comprising government and open-file industry surveys, have been merged and gridded, providing state-wide databases, grids and imagery.
Regional geophysical datasets available online include:
Airborne geophysical surveys
Airborne Magnetics
Airborne gravity and gravity gradiometry (AGG)
Radiometrics
Airborne Electromagnetics (AEM)
Digital elevation and digital terrain models
Ground geophysical surveys
Ground gravity
Seismic
Magnetotellurics (MT)
Petrophysics (physical rock properties)
Industry survey data
The minerals and petroleum industries are required to submit their geophysical surveys and the resulting data to the Victorian government. The GSV is the custodian of these surveys and periodically release the reports and data to open-file as the licences/permits cease. Archived surveys are available as part of various compilations and data packages, or can be accessed directly via the GSV Online Catalogue or Geoscience Australia's Geophysical Archive Data Delivery System (GADDS).
Data packages and compilations
A number of geophysical reports, data packages and compilations have been produced for specific work programs and initiatives, and are available for download from Earth Resources Publications.
A selection of Victoria's mineral deposits is included in Geological Survey of Victoria Report 119 - Geophysical Signatures of Base Metal Deposits in Victoria.
Various presentations on Victorian geophysical datasets and their application are also available from the Geoscience presentations and papers page.
Latest geophysical acquisition programs
You can find an overview of recent and current geophysical acquisition programs at the projects page.
Geoscience

Australia's Geophysical Archive Data Delivery System (GADDS)

Geoscience Australia's Geophysical Archive Data Delivery System (GADDS) provides magnetic, radiometric, gravity and digital elevation data from Australian national, state and territory government geophysical data archives. The GSV utilises GADDS to deliver these data, which are available for download in both located and gridded data formats.
Page last updated: 18 Aug 2022