Copper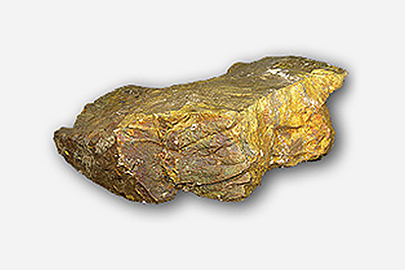 Copper is used in many alloys. For example, brass is a copper–zinc alloy, and bronze is a copper–tin alloy. These alloys are extensively used in piping, electrical applications, architecture, the building industry, household products, coinage, biomedical applications, chemical applications and musical instruments.
The main ore of copper is chalcopyrite (CuFeS2), which is often associated with other base or precious metal ores, notably those containing gold, galena (PbS) and sphalerite (ZnS).
In Victoria, copper-bearing ores have been discovered in a variety of geological environments. These include deposits of exhalative volcanogenic origin, sulphide–quartz lodes in Ordovician sedimentary rocks, deposits associated with dykes and granites, and concentrations in chemically reduced Carboniferous sedimentary rocks.
Most of the copper ore in Victoria has been mined from four locations: The Wilga mine near Benambra; from a high-sulphide zone west of Bethanga; at Thomson River near Walhalla, and; at Accommodation Creek near Deddick.
The Wilga (and nearby Currawong) deposits are volcanic-hosted massive-sulphide zinc–copper deposits.
In the Bethanga district, northeast-trending gold-bearing reefs contain abundant sulphides. These structurally controlled reefs are up to one metre wide and contain pyrite, arsenopyrite, chalcopyrite and sphalerite.
Copper mineralisation at the Thomson River mine lies along a fault zone parallel to the western margin of a hornblende diorite dyke, and is also disseminated within the dyke. The fault zone mineralisation is from one to three metres wide and has been reported to contain chalcopyrite in association with gold, silver, nickel and platinum group metals.
The Accommodation Creek copper mine is on a north–south trending shear zone within contact-metamorphosed Ordovician sediments, adjacent to the Deddick Granodiorite. The mineralisation consists of chalcopyrite within a gangue of quartz, barite and calcite.
Mount Ararat is a volcanic-hosted massive copper-zinc sulphide deposit located in the Stawell Zone of western Victoria.
Further west, in the Stavely Zone, potential exists for porphyry copper style mineralisation as indicated by the Thursday's Gossan deposit.
There is also copper mineralisation associated with acid volcanic rocks in the Buchan and Limestone Creek districts.
Further information
Maps
To create your own maps online and in real time, plan exploration activities by viewing land status or download GIS data to add to your own maps, visit GeoVic.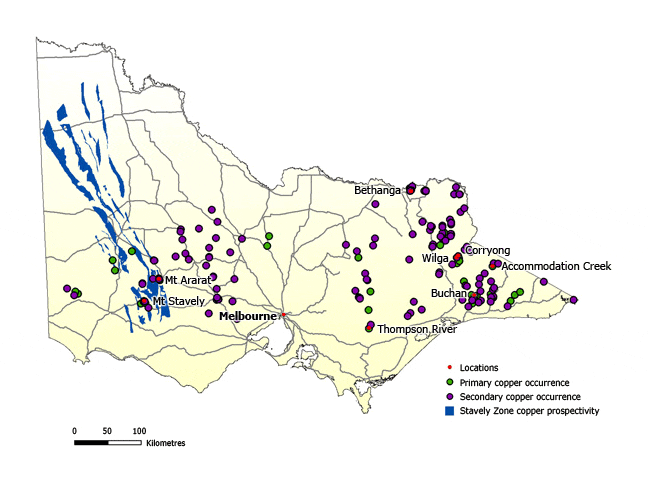 Page last updated: 12 Jan 2023