Earth Echoes
Earth Echoes documents a major project to acquire seismic data along a 400 km transect across central Victoria. The transect comprises four overlapping lines which span the width of the western Lachlan Orogen.
Solving the mysteries of geological evolution at such large scales, and hundreds of millions of years back in time, requires some creative thinking. The prize? Future gold discoveries potentially worth billions of dollars, in a region already famous for its rich orogenic gold deposits.
Project results
The resulting new geological models have boosted confidence in geological interpretations for the region, showcasing Victoria's high-prospectivity for future gold and base-metal discoveries. This further serves to stimulate mineral exploration, and provides a stable foundation upon which geoscientists - from the exploration industry, from government, and from academia – can build in future.
Project location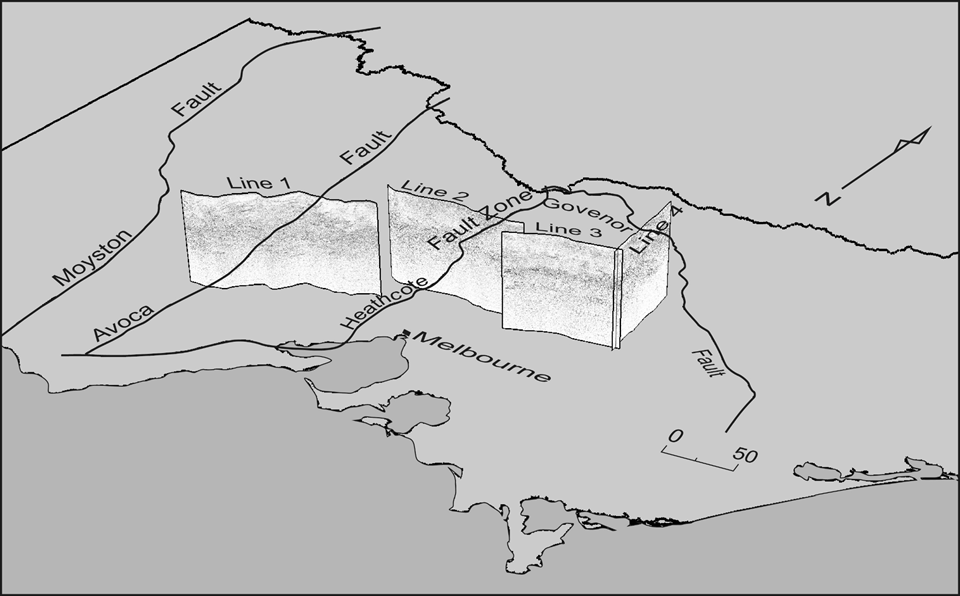 Earth Echoes has contributed to the development of detailed 3-dimensional models of the geology of the whole state.
Visit Earth Resources publications to access:
Research papers present the interpreted results of the seismic survey:
Project partners
Managed by the Predictive Mineral Discovery Cooperative Research Centre (pmd*CRC), project partners included the ANSIR (the National Research Facility for Earth Sounding) together with four junior industry partners. Geoscience Australia and the Victorian Government were the major funding providers, including support from Department of Primary Industries, and Department of Innovation, Industry and Regional Development, through GeoScience Victoria. The project commenced in 2006.
Geologists Ross Cayley, David Moore, Clive Willman, Tim Rawling, Vince Morand, Phil Skladzien, Vladimir Lisitsin, and Peter O'Shea were heavily involved in design, acquisition and interpretation of the deep seismic data, and in the preparation of the papers.
Page last updated: 02 Jun 2021